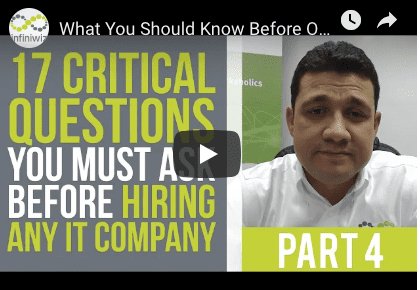 Are You Using The Right IT Company?
Information Technology is a lifeline for most businesses today. And there's a lot at stake when it comes to IT management. You can't afford to hire an IT company that doesn't adhere to best practices. But how do you ensure you've hired a good one? – By asking the right questions before hiring them. In this 4-part series, we reveal 17 questions that you should ask before hiring any IT company.
This is Part IV in our series where we address 13-17 of the 17 questions you should ask.
13. Do their technicians maintain current vendor certifications and participate in ongoing training, or do you feel as though they are learning on your dime? IT certifications are essential to ensure techs have the base knowledge necessary to do their job effectively.
Many IT positions involve knowledge of specific technical procedures or software. With certifications in a specialized area, your IT service company's employees will have the precise skills to maintain your computers, software and network.
Information technology is a fast-changing field.  As the industry evolves, new certifications are being provided all the time. Your IT service company should you keep their employees trained with an ongoing IT certification program.
Some of the major certifications include:
CompTIA A+ which is an entry-level certification and a basic starting point for any technician. This allows them to handle the maintenance of operating systems, computers, printers and mobile devices.
Cisco Certified Network Associate (CCNA) so techs can install, operate and configure enterprise-level switches and routers. With this certification, techs can also solve common network problems.
Network+ which is a certification that verifies a technician's ability to design, manage and troubleshoot wired and wireless networks.
Certified Information Systems Security Professional (CISSP) which verifies information security competence to protect your network from a cyber attack.
Microsoft Certified Systems Engineer (MCSE) which is a mid-level certification that validates a technician's ability to build IT solutions across multiple technologies. A tech can specialize in server infrastructure, desktop infrastructure, private cloud, enterprise devices and applications, data platform, business intelligence, messaging, communication and Microsoft SharePoint.
Most of these certifications need regular renewals. Some certifications can last for 5 years, while others must be renewed every 2 years.
14. Do they take calls from other clients while working on your network? This is a "cardinal sin in any service industry." Do you have their full attention when working for you? You are paying for services and should never put up with a technician who takes customers' calls while working for you.
15. Do you have to manage their progress on projects, or do they provide frequent updates, status reports, and follow-up calls and emails? You should be well-informed about what your IT company is doing, including the "what's and why's" about the work they do. They should meet with your leadership regularly and provide written reports on the status of your IT infrastructure.
Well run IT operations have top documentation processes that are continually updated so that anyone on the team can provide you with information about the support you're paying for. The ticketing systems these days makes it easy to track the status of every issue going on at your business. They should be able to provide you with an open issue list quickly.
Your IT service provider should also be completely transparent in terms of how much time they're spending on all of your open issues at any given point in time–and provide real-time patch reports, AV reports, system reports, OS reports, etc.
16. Do they offer flat-rate or fixed-fee project quotes, or do they give themselves a wide-open playing field with "time and materials? A Managed Service Provider should offer services and support for a fixed fee that you can predictably budget for. You want to make sure there are no surprises on your invoices. The IT solutions provider should offer Managed IT Services on a monthly subscription basis.
What's in your IT Plan will determine what types of IT Managed Services and support you require. Managed services are tailored to fit your specific needs and provided for a monthly fixed fee that you can predictably budget for.
17. Do they offer "Do Not Exceeds" on projects or do you have to wait until the end of the project to find out what it's going to cost you? When negotiating for an IT project your provider must commit that they will not exceed the amount stated in their proposal. If during the work you agree that the scope of the project should change, the Not To Exceed (NTE) value may be adjusted upward or downward depending on the changes–but only with your permission.
Well, that's it! Infiniwiz does all 17 of these things and more for businesses in Chicagoland. Contact us, and we'll be happy to do the same for you.
And be sure to stay up to date on the latest IT news and info by checking out our Blog.