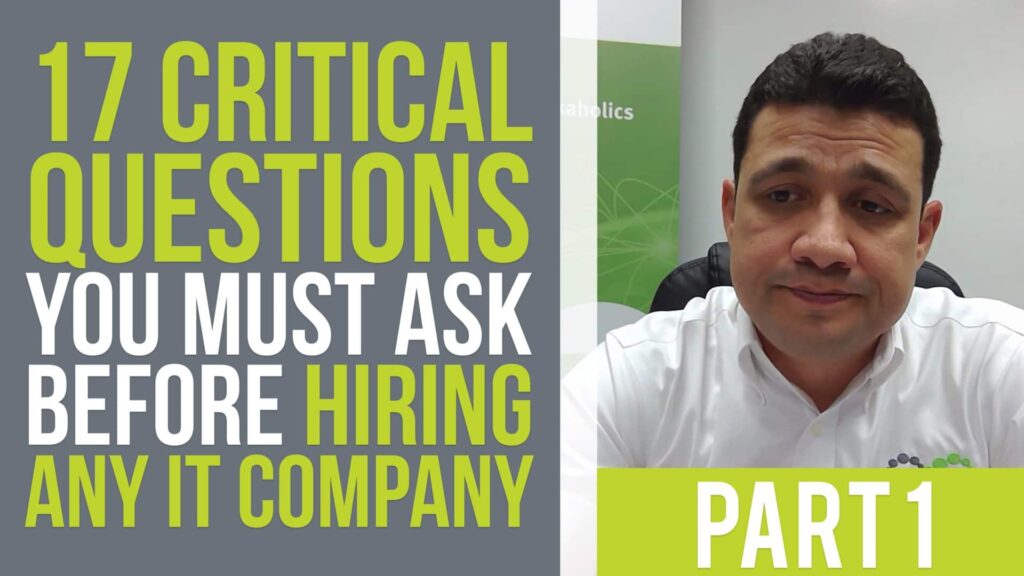 Are You Paying For Substandard IT Service?
Watch Part 1 of our video series.
Not a week goes by where we don't get an urgent call from a business manager with a major technical disaster–one that could have been prevented if they were using the right IT company. Why do so many businesses pay for substandard computer support? Simply because they don't know the right questions to ask before hiring an IT company. In this 4-part series, we reveal 17 questions that you should ask before hiring any IT company.
This is Part I in our series where we address 1-4 of the 17 questions you should ask.
1. What is the IT company's response time?
Does their response time fall within industry standards? Do they answer their phones and respond to support issues within 4 business hours or less–even after regular business hours? How fast do they respond to emergency calls after hours?
If you have to wait hours, or even days for IT support, you can't provide for your customers and keep your business running as it should. Fast IT issue response and resolution times keep your staff working.
Your IT company should provide a 24/7 Help Desk staffed by professionals who are familiar with your technology infrastructure and can respond to and resolve issues quickly, either remotely or by paying a quick visit to your office. This prevents IT downtime that can cost you in productivity, lost customers and money.
2. Will they remotely monitor your network 24/7?
Is your IT Managed Service Provider (MSP) remotely monitoring your network 24-7-365 to keep critical security settings, virus definitions, and security patches up to date? Remote Monitoring & Management (RMM) proactively monitors network and computer health.
RMM is a collection of information technology tools that are added to a network consisting of servers, infrastructure devices, and workstations. All of your workstations and servers must be connected to the RMM tools. These tools gather information regarding the hardware, operating system and applications that are on your network.
RMM provides a status on the devices it's loaded on. It gathers information on performance, reliability or stability, version, inventory, on/off, and even security depending on a number of criteria.
The RMM also sends regular updates to operating systems like Windows updates (on workstations and servers) to make sure all vulnerabilities are patched as soon as a manufacturer discovers them.
RMM, when implemented and executed correctly, allows your IT Services Company to effectively provide proactive management on the technologies that comprise your network. It also allows them to proactively make changes to mitigate or remove problems before they occur.
3. Do they insist on backups?
Do they insist on offsite as well onsite backups, or are they letting you rely on outdated tape backups? Is your present backup plan immune to today's lurking dangers that could sabotage your business?
A plan for the backup and restoration of your data is essential. Successful backups are the backbone of business continuity. A strategic backup and disaster recovery plan can ensure your company's survival no matter what comes your way. Your IT company should provide enterprise-based cloud backups, computer hard drive backups, and complete data, hardware and system recovery services.
Taking your backup one step further, your IT service company will show you how to leverage the full power of the Cloud so your staff can continue working from anywhere they can access the Internet.
4. Do they test restore backups regularly?
Do they insist on doing periodic test restores of your backups to make sure the data isn't corrupt and can be restored in the event of a disaster?
When was the last time your IT company tested your backup system and restored data? Was it fast and easy? Was all of your data recovered without errors? Data quality, breadth, depth, and speed of recovery are essential.
Regular monitoring and testing of your backup process documents gaps and errors and remediates them to prevent the possibility of failed backups that keep you from staying operational.
Your IT company should use the latest automated tools to make sure your data will always be available:
Image-Based Backups that save your files, operating system(s), applications, emails, settings, and user credentials.
Cloud Backups that are stored in secure data centers, so you don't have to worry if your hardware is damaged.
Virtualization Services so you can quickly spin up a virtual copy of your systems and easily access your IT from any computer that's connected to the Internet.
Your backups must be tested to make sure they are always recoverable from a recent point in time. This guarantees that you will always have access to your data.
Infiniwiz does all 4 of these things and more for businesses in Chicagoland. Contact us, and we'll be happy to do the same for you.
In the meantime, be sure to watch for Parts II, III and IV in this series. And stay up to date on the latest IT news and info by checking out our Blog.