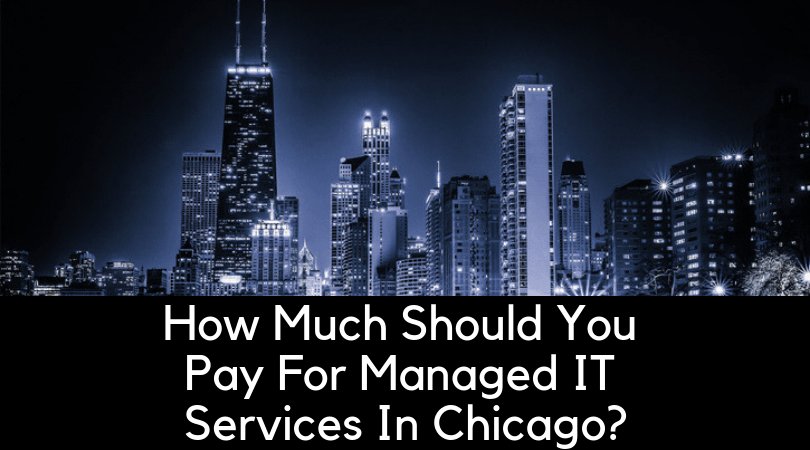 Time For A New Chicago IT Services Company For Your Organization?
Outsourcing your Chicago-business IT services is a great way to cut back on hiring and maintaining in-house IT staff. In the past, business owners felt that having their own IT department was the way to go. You get better control, plus you have people on staff to handle everyday technology issues.
The problem with this is that experienced IT people require hefty salaries. You have to include vacations, sick time, and insurance. One employee can wind up costing your company over $100,000 per year. And if they get a better job offer somewhere, they'll up and quit leaving you high and dry.
Another issue is that business owners typically don't have a good understanding of how the technology works. So you have no way of knowing whether your IT department is doing their job or not. They might spend all day playing around on social media or talking to their friends. They may not be keeping up-to-date on the latest cybersecurity threats. How do you know if they're applying updates and patches right away?
In a recent report on the Equifax data breach, the investigation showed that the breach was 100% preventable. One of the main issues was the use of Apache Struts web-application software. Equifax's IT department had not been applying regular patches and updates. This made them an easy target for cybercriminals. Over 143 million Americans had all or part of their personal data stolen by cyber crooks because the IT department at Equifax was not doing their job.
It makes you stop and wonder when a company this large cannot do a simple thing like update software regularly and apply patches when needed. There's no telling how much money these IT employees were earning each year. But if the company had been using a reliable managed IT service provider like Infiniwiz, the whole breach might not have occurred.
Infiniwiz Works Hard To Be The Top IT Services Company In Chicago
Infiniwiz has to work hard to keep your business. And we're most profitable when all your technology runs smoothly 24 hours a day. We don't take our clients for granted. We understand how important your business is to you. Those are important considerations when deciding about the best route for maintaining your technology resources.
In addition, there are some great options available these days. You can get all your technology managed or simply get help when your in-house techs are swamped. Managed IT provides you with an experienced team of pros who can handle everything from your network security to your important business applications. We're available when and how you need us.
One important question that many business owners have relates to the cost of managed IT. Infiniwiz tries to be as transparent as possible. We want to answer that question accurately as well. Of course, we'll need to know a few things about your business and your technology needs. That's a given. There are many factors to consider and we do strive to work within your budgetary requirements.
What Types of Chicago IT Services Are Available?
Though your business could benefit from all types of IT services, some companies have certain aspects of this already covered. There's no reason to pay for services you don't really need. Below, are a few of our most popular services.
Infrastructure Management, Monitoring & Maintenance
This includes server monitoring and workstation protection. We'll manage your security and firewall, along with backup and disaster recovery services. Business continuity is an essential component these days with so many natural disasters taking place. Any interruption to your services can be expensive. In addition, it can damage your company's reputation and affect your bottom line.
User Support
Your employees will eventually need help with a line-of-business application or a malfunctioning computer. Depending on how many employees and computers you have, it can be more cost-effective to go with an unlimited user support package.
Often, our engineers can solve your issues remotely. This is a quick, convenient option for employees. We remote into the computer and fix the problem so your employees can go right back to work. In some cases, it's necessary to send an engineer out to your company to fix the problem. With unlimited user support, everything is included so there is no surprise IT bills to pay.
Strategic Consulting
We can provide IT consulting if you need it, or simply step in when your team needs a bit of assistance with a big project. Strategic consulting can prevent you from making big investments in technology that might be outdated within a few years. The goal here is to give you, the business owner, the benefit of our years of experience dealing with different machines, brand names, products and services.
Personal IT Service You Can Rely On
As you can see, there are lots of variables when it comes to quoting the price of managed IT services. That's why we recommend sitting down with one of our consultants and going over your specific business needs. At Infiniwiz, we take pride in offering personalized IT services that fit your specific needs.
Our reputation depends on us delivering the high quality IT services you need at prices you can afford. When we have happy clients, they tell their friends about Infiniwiz. That's just how the business world works these days.
Are You Ready To Engage With Chicago's Top IT Consulting Company?
Infiniwiz is proud to be part of the Chicagoland community. Our IT services can improve the way you deliver services to your customers. And, they come at a fixed monthly rate that's predictable and easy-to-budget-for. If you'd like to schedule a complimentary consultation, please contact us.  Call (847) 994-1111 for a reliable Chicago IT support company.
In the meantime, check out our Media Center to stay current on the latest IT news:
How Do We Know Someone Isn't Spying On Our Network?
Happy National App Day: December 11th
Important FBI/DHS Warning: Update On FBI and DHS Warning: SamSam Ransomware