Top Tips to Find Your Ideal Microsoft IT Services Professionals In Chicago
Is your Chicago Microsoft support partner providing you the best service? Here's how to find the best technology services team for your business.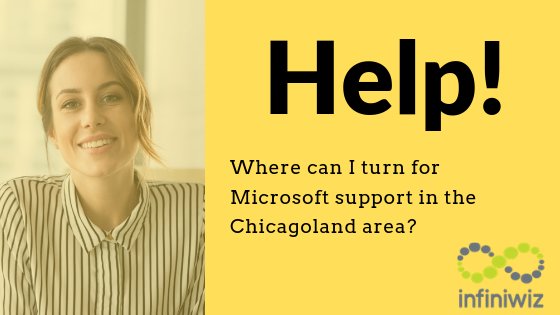 Businesses have unique needs that can change over time, and that's particularly true when it comes to technology. The types of support that you needed from an IT services partner only a few years ago can differ dramatically from your needs today, causing many businesses to look around and see if there are other options to support their business. Finding your ideal Chicago Microsoft support and infrastructure services partner starts with a thorough review of your business needs in terms of technology resources and your future growth opportunities, too. These tips will help ensure that you're finding, vetting and hiring the best possible tech partner for your business.
1. Determine Your Risk Factors
Look at where your organization currently stands in terms of technology and your business needs. Are you in a highly-regulated business such as healthcare, finance or the legal field? If so, you might need specialized support from a team who fully understands the implications of your business. Determining your risk factors such as cloud-based storage needs or the level of Microsoft support that your business requires is a good first start to your search. Each year, the Ponemon Institute researches the cost of a data breach and the impact on businesses and in 2019 the average global cost of a data breach approached $4 million. With these numbers in play, it's critical that you protect the needs of your business by finding — and mitigating — your risk factors.
2. Review Your Current Microsoft Support Status
Are you currently running your business with a legacy Microsoft license structure that requires you to physically add and remove licenses from machines? If so, finding the right Chicago Microsoft support team for your business could significantly improve your productivity and boost collaboration between staff members and customers. Microsoft Office 365 is a cloud-based suite of services that allows your team to quickly and securely communicate and share documents in a way that you can track and evaluate. With an updated license structure, you'll always have access to the newest releases in terms of security updates and functionality, too.
3. Vet Potential Partners for Cybersecurity Knowledge
Keeping your cybersecurity practices up-to-date is a vital part of your technology strategy, and you need to find a partner who is well-versed in supporting businesses in your vertical. You're looking for a partner who actively encourages their technicians to improve their knowledge through ongoing certifications and training. If there's not a training plan in place with your technology partner, don't hesitate to ask questions about how they plan to proactively acquire this information.
4. Find Partners Who Care About Your Business Success
There is a big difference between a "vendor" and a true partner for your business. A true partner is constantly looking for ways to help improve your security, reduce expenses and boost productivity and will actively make recommendations targeted to help you grow — not just to improve their commission. That means your IT services team should be willing to make recommendations on what will work best for you, even if they don't happen to offer that solution. If you find a team that simply answers "yes" to every question without fully exploring whether they're the best fit, it might be time to keep looking!
5. Be Wary of Hidden Costs
Traditional IT services models were often project-based or short-term in nature. Newer support models often contain a mix of options that includes a base layer of ongoing services for a set monthly fee and fully-defined offerings that are outside this model. When you're finding a new IT services partner, be sure you fully understand and document the "add-ons" that could cause your business to incur additional charges. Additional charges such as bi-annual reviews or major hardware upgrades should be added to your contract with details about whether these specific services are covered or not. If your contract feels a bit vague, push back on your potential partner until you're confident that you understand the cost structure and that it works for your business.
6. Ask Questions About Response Time and Uptime
Digging into the details about the day-to-day experience with a potential IT services partner starts with matching the needs of your business to the level of responsiveness and uptime offered by partners. Some businesses require always-on availability — such as finance and healthcare — while others can afford a short delay before coming back online after an incident. There are no right or wrong answers here, it's simply crucial that you match the uptime needs of your business to the dependability and infrastructure support offered by your services partners.
Call Infiniwiz! Your Chicago Microsoft Support Team
Finding the best Chicago Microsoft support starts with understanding the needs of your business and how to present that to potential partners. At Infiniwiz, we have been the go-to support team for Chicago businesses of all sizes, offering trusted and secure technology that keeps organizations running smoothly and efficiently. Contact us today at 847-996-9411 or visit us online to learn more about the services that we provide.