Why You Need Co-Managed IT Services In Chicago
As technology continues to become more complex, cybercrime continues to rise, and overall, companies start embracing digitization to better serve their customers, many organizations are wondering whether or not they need to hire in-house or outsource. But here's the thing… You don't need to choose between one or the other. Look, we know a lot of organizations want a solid, reliable technology partner. Why? Because they need their technology to work – it's as simple as that.
Although you may think the best route is hiring in-house, that's not always the case. Sure, they might be highly skilled and very involved in your day-to-day operations. This is key to achieving your short and long term business goals through the effective use of technology. But we've heard from business owners time and time again – internal technology departments almost always get overwhelmed. Even the best, most knowledgeable people struggle to keep up with it all:
Monitoring the network and systems
Applying patches and updates
Responding to employee support requests
Taking initiative to complete projects
Making backups of information and applications
Testing backups to ensure they're viable
Planning for a potential disaster
The list can go on and on. On top of their full-time responsibilities, most internal technology support people are keeping themselves up-to-date and certified in various technologies and/or skill-sets. This adds even MORE to their plate. And when they become overwhelmed? Well, that's when things start falling apart:
Projects are delayed
Support requests are ignored
Backups aren't taken
Projects come to a complete halt
Cybersecurity goes unchecked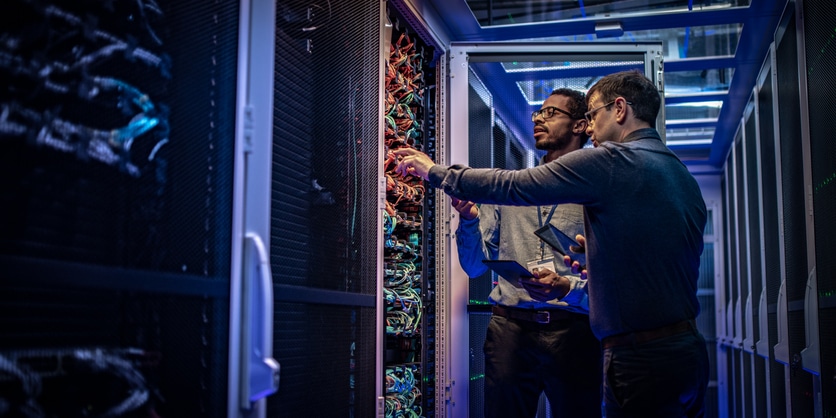 Wouldn't Hiring More People Fix The Problem?
Most business owners we've talked to have tried to hire more people in an effort to keep things running smoothly. In the majority of cases, they've found themselves paying even MORE money (salary, benefits, vacation time, etc.) to have the same problem: an overloaded internal technology support team. Why does this happen? Well, more often than not, the problem lies in the lack of:
Access to enterprise-grade tools
Years of experience within their industry
Streamlined processes and procedures
Basically, even the best technicians don't have the resources an outsourced company does: technology partnerships with leading manufacturers, streamlined processes and procedures that come from years in business, and overall, expertise that comes from working in the information technology field for a long, long time.
Why Should You Choose Co-Managed IT Services?
You have three main options when it comes to managing your information technology environment:
Outsource ALL of the functions and/or responsibilities of your information technology management.
Hire an internal person or team to maintain responsibility for your information technology management.
Leverage a co-managed approach that involves some internal staff handling some aspects with an outsourced team handling others.
The third option is the most commonly overlooked. It's known as co-managed IT services, and more often than not, it's the best way to manage your information technology. Look, if you already have fantastic people but they're overwhelmed, it's time to help them out. After all, you know and trust these people.
A co-managed approach gives you the best of both worlds! Your internal person or team can continue to work on what they do best while we handle the rest – offering additional services, expertise, and availability at a flat-rate monthly fee.
How Do Co-Managed IT Services Work?
You get all of the traditional benefits of managed IT services while keeping your internal person or team. This means you pay a flat-rate monthly fee for access to an entire team of experts who can help wherever you need it:
Around-the-clock monitoring and regular maintenance to prevent issues
Enterprise-grade cybersecurity tools, processes, and procedures
Onsite or remote support as needed, even outside of regular business hours
Strategic planning and/or project assistance
And much, much more
Your internal person or team gets a helping hand so they're never overwhelmed with day-to-day tasks while freeing them up to focus on innovation.
Get Started With Co-Managed IT Services
Since 2002, Infiniwiz has been the go-to choice for co-managed IT services in Chicago and surrounding areas. We work alongside your internal IT team to provide you with the best service available from an IT department.
Click here to get started or call us at (847) 613-1403.