How Easy Is it to Switch IT Companies?
If you have a feeling it's time to switch IT services providers, chances are, you're right. Here's what you should expect.
More likely than not, your current IT company earned your business by claiming to be capable of ensuring your IT network runs smoothly. That's a big claim considering your IT environment is arguably the glue that holds your entire operation together.
IT plays an integral role in your daily activities, from communicating with staff to linking your business to clients. The significance of information technology in today's business environment means you need to evaluate your network regularly. This, in turn, means you have to assess your IT partner's performance every once in a while.
As a leading managed IT support and consulting company, Infiniwiz understands the role your IT Company plays in maintaining a robust network. To ensure your MSP is going above and beyond to ensure your systems are running optimally, you need to carry out a network assessment.
What Are the Signs That It's Time to Switch IT Companies? We realize that switching technology partners is a daunting prospect. Over the years, we've seen many organizations shy away from parting ways with their current MSP.
However, the cost of doing business with an incompetent IT company is just too high. So, how do you know it's time to assess your network? Our IT experts came up with this article to highlight the tell-tale signs that your business is long overdue for a network assessment.
Let us break it down for you.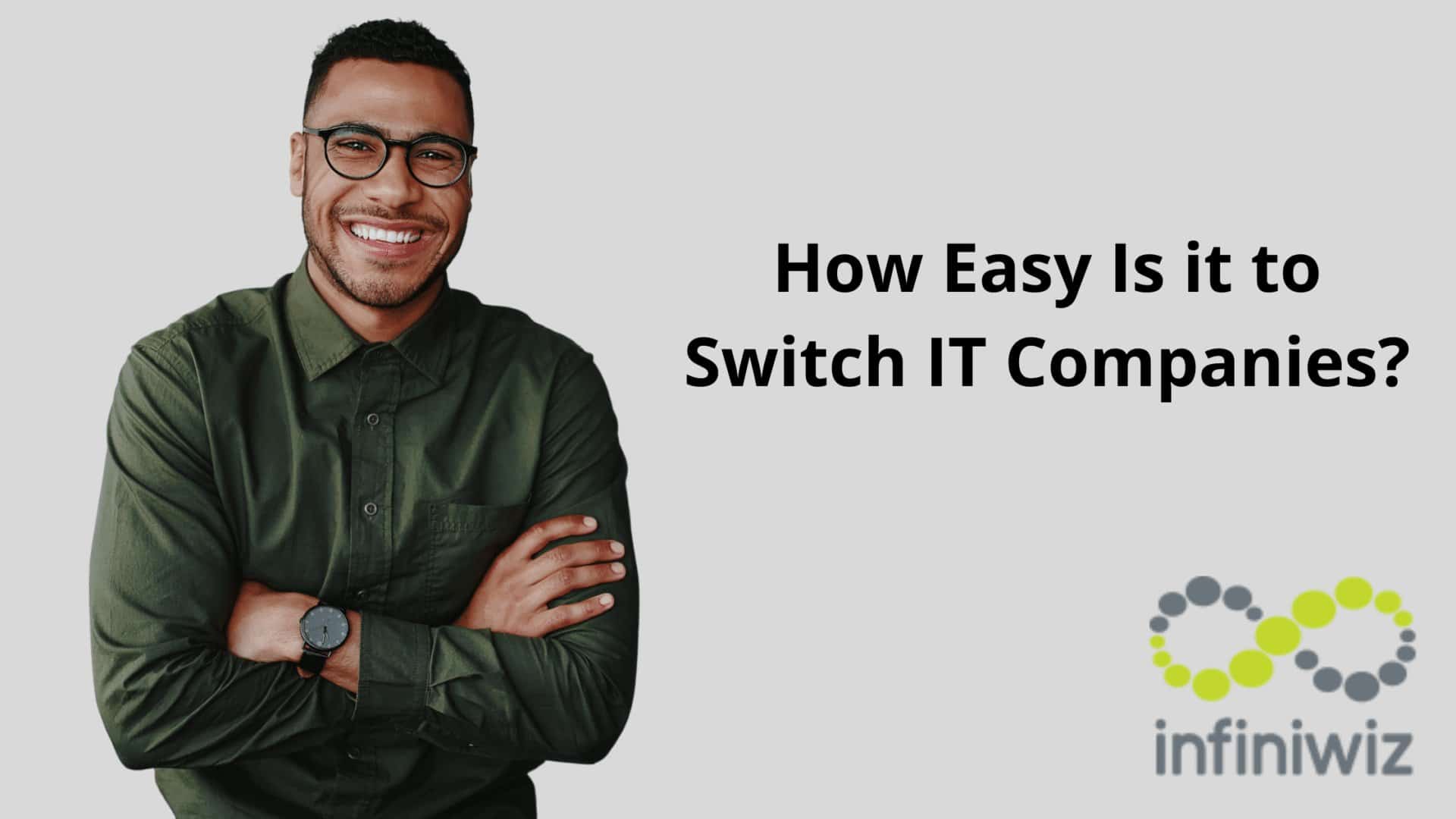 Start With a Network Assessment
What's a Network Assessment? A network assessment is an exhaustive analysis of your organization's IT investments, management, and vulnerability to cybersecurity risks. It also investigates several operations supported by your IT network as well as its effectiveness.
It enables you to identify both your strengths and weaknesses so you can respond accordingly.
When Is It Time to Assess Your Network?
When considering switching technology partners, you have to be on the look-out for some of the red flags. What is your IT network suffering from? Are your systems lagging? Or is everything just too complicated?
To help you make the right choice based on your organization's specific needs, we compiled this checklist:
Is your network taking too much time, resources, specialized labor to support?
Are your systems far too complex to troubleshoot?
Are you a reasonably recent CIO that has to assess the systems in detail before crafting a long-term IT strategy?
Is your organization expecting an audit any time soon?
Are you having doubts about placing new systems on shaky IT infrastructure?
Is your business scaling up, and you need to be assured your systems will be able to support your business as it expands?
If you have answered yes to any of the above questions, it's time to find an IT company that can meet your organization's needs. Most of the time, your employees will have already lodged several complaints about your network's performance. Whatever the case, you need to move swiftly.
What Should a Network Assessment Cover?
While a network assessment can cover a broad scope, we have managed to pinpoint the primary areas that any evaluation must cover:
Network Infrastructure Assessment
This consists of a detailed evaluation of the major components of your network infrastructure.
Hardware Platforms
Client PCs, tablets, smartphones, or servers.
Enterprise Software Applications
Supply Chain Management (SCM), Enterprise Resource Planning (ERP), and Knowledge Management System (KMS).
Operating System Platforms.
Internet platforms.
Telecommunication/Networking Platforms.
Consulting Systems Integration Services.
Network Security Assessment
A network security assessment aims to isolate weak points by evaluating your network's security models.
Looking for IT Support in Chicago You Can Count On?
Depending on your current IT support provider's performance, you can decide whether it's time to switch over to a reliable partner. But you don't have to do it all alone. Infiniwiz delivers premier IT services to businesses all over Chicago, Schaumburg, and Rosement.
Get in touch with us and let us help you with IT solutions you can rely on.