Virtualization technology is well on its way to revolutionizing how businesses approach data backup and recovery.
Whether you find yourself facing a minor issue or a large-scale disaster, data backups are an invaluable resource to have in place. They're what allow your business to stumble instead of fall, and carry on when any number of problems pop up, cutting you off from access to your data.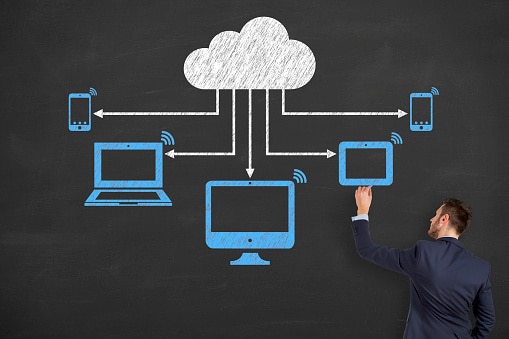 That being said, if you find yourself faced with anything more serious than a lone malfunctioning workstation or faulty hard drive, data backups aren't enough on their own. When you're cut off from your systems and software, copies of your mission-critical data are not exactly useful. Data alone can't get you up and running again – especially when you find yourself without the use of multiple workstations, or even your office space itself.
Scenarios like that are the exact reason more and more businesses are turning to Business Continuity solutions in place of basic data backups. Business Continuity is, in essence, a contingency plan for worst case scenarios. It's a set and tested series of protocols that allow you and your team to work around any problem technology can throw at you, drastically cutting back the amount of downtime and lost productivity your business will have to contend with.
As the cloud and hosted solutions continue to become more popular, businesses are now turning to virtualization to fulfill their Business Continuity needs.
Virtualization preserves more than just your business data – it preserves your entire system. Files are still backed up to a local server, but the process is much more sophisticated than with other types of data backup. With virtualization, your local device takes a backup of your entire system at regular intervals. It constantly updates, validates, and stores image-based backup files as VMDKs. These VMDKs contain all of the software, operating systems, and files from your devices and workstations.
With this type of system in place, if your system fails, a virtual copy can be booted from the backup in a matter of seconds with the click of a button. You're not stuck waiting minutes — or even hours — for files to load, and there is absolutely no need to work your way through a long and complicated step-by-step restoration process. Virtualization is designed to provide instantaneous restoration, making downtime all but nonexistent.
Instead of making a frantic phone call to your IT support provider when something suddenly goes wrong, you can take a nice, calming breath and turn to the careful plan you and your staff will have come up with to work around faulty workstations, power outages, or even a flood at the office. Knowing your backups are quite literally at your fingertips is the peace of mind you need to stave off panic when disaster strikes. You can instantly access your entire backup on another machine, and boot from either a local device or the cloud depending on the circumstances.
Your team can work from home or a temporary secondary location with the same convenience and ease as working from the office. Neither you or your employees need to be anywhere near your local server, or even in the same city as your usual base of operations. If you need to get out of town to weather a storm, you can stay safe while still staying productive. All you need is an Internet connection and a functioning device, and you can be back up and running in no time at all.
Best of all, your regular backups will continue, and you'll never miss a beat.
Data backups and Business Continuity are meant to give your business a means of bouncing back from a disaster quickly and efficiently, but part of what makes a great solution stand out from a decent one is the peace of mind that solution offers. When your Business Continuity solution is subject to limitations of any kind, no matter how effective that solution is, it's always going to be lingering in the back of your mind that if something happens that tests your solution's weak spot, your business would be in a whole lot of trouble.
You have enough to worry about already without adding a list of "what ifs" into the mix. One of the advantages of technology is supposed to be that it takes a lot of these types of concerns off of your plate by providing resources and solutions that make your life easier. The ability to have a single solution configured to your unique business, monitored and maintained by experienced and knowledgeable professionals, is precisely the solution your business deserves to have in place.
Virtualization might seem like a costly and complicated alternative to the usual data backup solutions, but by moving your data to a hosted server and eliminating the need to install, maintain, and eventually upgrade or replace pricey onsite hardware, virtualization can actually save your business money. This scalable, budget-friendly, and fully capable Business Continuity solution can protect your business from anything and everything.
Virtualization is more than just data backup – it's all-but-infallible Business Continuity. Get in touch with Infiniwiz at (847) 994-1111 or sales@infiniwiz.com today to learn more about the virtualization services we offer.