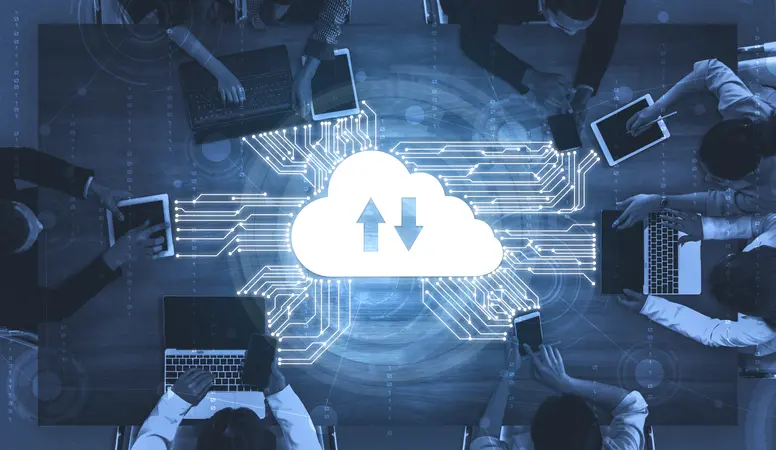 As technology continues to evolve and businesses become more knowledgeable about the versatility of each functionality, there has been a widespread migration where companies are now transferring to the virtual cloud rather than local, on-prem services. If you are wondering which service is better for your business needs, allow me to explain the benefits of why cloud services may be the right choice for you and your company's work processes.
One of the first topics to address when it comes to the conversation of a virtual cloud vs an on-prem server is the belief that a company can't benefit from a fully cloud-focused office with virtual desktops because it doesn't employ remote workers. While that may have been the case in the past, it may not be the case now.
Here are a few facts:
'The cloud' has grown in popularity in recent years and, worldwide end-user spending on public cloud services has grown up to 18.4% in 2021 and continues to increase" (xperience-group).
94 percent of all enterprises are using cloud services in some form.
By 2025, there will be over 100 zettabytes of data stored in the cloud. To put this in perspective, a zettabyte is a billion terabytes.
(TechRepublic).
What is the primary distinction between on-premises and cloud servers?
The fundamental contrast between a cloud server and an on-premise server is where it is stored. An on-premises server is a physical server that is placed within a company's own facilities. A virtual cloud server, on the other hand, is located in a remote data center.
Capabilities for connecting
If remote workers are working on an on-premise server, for example, and the office internet is down, a user will be unable to connect to administer programs and software. This is because the server is separated from the outside world and is reliant on the office connection. However, within a cloud, the usage of apps and software will still be available. This is because if the internet goes down, there are several internet pipes and power lines that connect to a data center that has generators to back up user connections to the cloud.
A physical device is less dependable than a virtual server
When it comes to your local server, there is always the potential that it could be destroyed, whether by a person causing physical damage to it or by a natural disaster. While there can be redundancy in the on-premise server, such as two hard drives, power supplies, disks, network adaptors, and so on, having two motherboards, for example, wouldn't make the best financial sense. This is because some components will have a single point of failure. As a result, if the motherboard fails, the entire server will be down until it is fixed, which might take up to 24 hours or more because a user would have to order components, maintain spare parts, investigate inventories, and ensure that the tools needed are available. Therefore, if something happens to the physical device at your workplace, the server will not be available to anybody that works for the company, causing an interruption in business operations.
Maintenance
The on-premises server necessitates separate backups and maintenance agreements, which do not come standard and must be maintained by qualified personnel. This is due to the server requiring a greater level of understanding in order to maintain the device and provide server backend maintenance. In many circumstances, companies merely get the device installed and have no idea that they need to have an agreement in place to ensure it has maintenance. This issue increases the likelihood of something going wrong because there is no engineer monitoring the server. As a result, to have a virtual cloud, it is usually maintained by the cloud provider, where an MSP or internal IT team assists end users. For example, if employees have trouble opening programs or wish to add/remove users in the virtual cloud, standard IT staff will help. However, the virtual server has to be patched, secured and backed up by someone. This is a different maintenance type of skillset that Cloud providers include as part of their service without the need for special and separate maintenance agreements that are required for on-premise servers.
Capacity
Depending on your vendor's products and service levels, a cloud data system may have an unlimited amount of storage. If you need more space, you are able to change your capacity plan if necessary. Whatever you purchase with the on-prem server is what you will have acquired since you are limited to the physical box.
Additionally, it makes it easier to manage a virtual server because, for example, if one's staff is growing and the physical on-prem server doesn't have enough CPUs (central processing unit) within it to support the entire team's processes, the company would have to purchase a new server. Where in the cloud, it is more scalable, where you can add additional CPU power or additional servers as you gain more users.
Back up your critical data
Many owners buy the on-premise server without knowing that they also require a monthly service backup; where information is copied on the local backup server and on a cloud backup service.  However, it is possible to set up. A company will need the right team to install the backup system. On the other hand, cloud backups include a virtual service that allows you to update files and download vital information to any device using your internet connection since backing up all of your data.
Cloud services are reasonably priced.
When it comes to on-premises servers, one may believe that it is a one-time purchase. However, there are continuing maintenance and backup expenses charged by the IT support team. However, with buying a server for a firm with a team of under 10 individuals, it may make sense to utilize the virtual server where if you total all the expenses up, the cloud service will most likely cost less compared to the projected cost of a physical server for five years. If you have a larger workforce, purchasing an on-prem server may make economic sense, but not in terms of uptime and reliability. This is because you simply pay one monthly fee to support the server and one backup fee, however with a virtual server, you must pay for each user, which can get costly.
Compliance
 Once all of the data and workloads are in a virtual cloud such as Microsoft Azure, you can now benefit from SOC 2 compliance, which reports on various organizational controls related to security, availability, processing integrity, confidentiality, or privacy. You also have the ability to support single sign-on with multi-factor authentication through, for example, Office365 accounts along with all of the excellent auditing tools that Azure makes available. You can also easily limit access to the applications and data. While you can have all of these functionalities by yourself on-premise, it is much easier and more cost-effective to obtain all of this through the cloud.
Why is the cloud more effective than on-premise?
Due to its adaptability, dependability, and security, the cloud has been labeled better than on-premise since it frees you from the hassle of maintaining and updating systems and lets you focus your business operations, money, and resources on executing your essential business strategy. With adoption rates increasing, cloud services are quickly overtaking other options where you will always have access to applications and software regardless of your location and will have guaranteed uptime if connected to the internet.
It is our responsibility to assist businesses in creating more unified corporate activities, improving customer service, and utilizing technology to move forward. Experienced IT consulting specialists in Chicago will make your technology work for you, saving you from spending endless, tedious hours managing your company's IT. Managed IT is when the Infiniwiz team proactively handles all of your IT concerns and hassles... So, you can complete all of the tasks on your own "to-do" list, such as building your business! Please contact us if you have any questions!