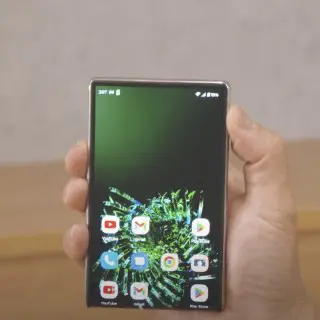 Motorola is well-known for its vehicle radios, mobile computing, and mobile gadgets and has been operating for nearly 90 years inventing new technologies for users to obtain. Nevertheless, the company has devised an evolving strategy to capitalize on an idea that other mobile companies have not yet developed. The corporation has a plan in place to produce a rollable smartphone, with 312 labs assisting in the research and design of a never-before-seen device.
Motorola states that the concept of this new device "builds upon the display and mechanical innovations we delivered in our foldable devices, and projects where the exciting space of dynamic form factors can go" (Motorola).
The company states that this new device can adapt to your surroundings. For example, if you are watching a video, the phone is able to increase its size so that the screen is larger and more convenient while you watch. This new gadget can also retract, for example, if you want it to fit inside of your pocket easier! The phone will be able to change sizes from 4 inches up to 6.5 inches per the user's choice. Additionally, the Rollable screen will have three states: extended, compact, and peek. Overall, with a click of a button, the screen will move to whatever it is adjusted to.
The company leaves us with this concept stating, "At Motorola, we see the smartphone as an extension of ourselves – a tool that allows us to adapt to our surroundings and accomplish tasks with ease. Now, we are investing in flexible OLED or pOLED, screens to deliver an optimal balance of content and comfort" (Mororola).
If you want to learn more about this new device, watch Motorola's introduction video!