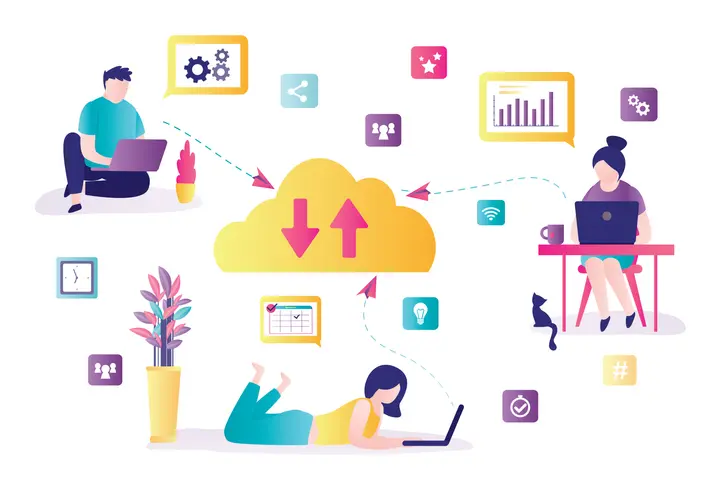 Businesses and organizations frequently utilize Microsoft SharePoint and OneDrive, two well-known cloud-based file storage, to share, store, and manage files and documents. While both platforms are owned by Microsoft and share several features, they differ due to their distinct design and other significant differences.
So, what are the benefits of each software?
OneDrive's Benefits
Users can store, view, and share their files and documents using OneDrive from any location and device. It is frequently used as a personal file storage and backup solution because it is primarily intended for single users.
Also, those who wish to save their most essential documents securely can do so with OneDrive's files. The best way to maintain private files is with one of these folders.
OneDrive also offers some collaboration tools, including the capacity to share files and folders with other users and work on them in real-time.
However, you shouldn't anticipate finding the advanced collaboration tools SharePoint offers. You can only expect basic collaboration features while utilizing OneDrive.
Sharepoint's Benefits
On the other hand, SharePoint is a better platform for collaboration that is made for corporations and organizations. Teams can save, access, and share files and documents with this application. Besides file sharing, it has other tools such as document management, project management, and team communication.
With capabilities like building personalized web pages and connecting with other Microsoft products like Office 365, SharePoint is frequently utilized as an intranet for businesses. For example, a company that needs a corporate website with resources solely available to employees can benefit from an intranet. Training materials can be stored on an intranet as well.
Other Differences between OneDrive and SharePoint
Customization
The flexibility and control each platform provide are vital distinctions between SharePoint and OneDrive. OneDrive is a less customized, more uniform platform. On the other hand, SharePoint admins have the option to modify the system to match the specific requirements of their business.
Security
Security is another distinction between the two platforms. SharePoint is suitable for businesses that manage sensitive data because it has better security and compliance capabilities. Some security benefits SharePoint has is authentication, access control, encryption, auditing, and reporting. Although OneDrive offers specific security measures like two-factor authentication and encryption, they are less extensive than those in SharePoint.
Overall, SharePoint is a collaboration platform created for businesses and organizations, whereas OneDrive is a personal cloud storage designed for individual users. Despite certain similarities, their features and capabilities are different, and they were created for various purposes. It essentially depends on your business's needs and what would allow you to have a more manageable workflow.
Our job is to help companies create more unified business functions, improve customer service, and utilize technology to move forward. Chicago-experienced IT consulting experts will make your technology work for you and keep you from spending endless, frustrating hours managing your business IT. Managed IT is when the Infiniwiz team proactively takes care of all the IT headaches and hassles for you…So you can get done on your own "to-do" list – like growing the business! If you have any questions, feel free to contact us!