As many Americans are already aware, the Biden Administration issued an executive order expunging all student loans up to $20,000 for an individual who meets the following requirements for student debt relief. Many people have been waiting for the Student Loan Debt Relief Application, which was recently released in October 2022. While this is a tremendous triumph for many people who still have student debt to pay off, it is also the ideal opportunity for scammers to deceive users into thinking they are the government and steal money and personal information.
Here are a few important facts:
Federal debt makes up about 92% of all outstanding student loans (Forbes).
Over 8 million Americans have filled out the Student Loan Debt Relief Application.
Con artists will use this information to deceive uninformed individuals.
As soon as you submit the application, The Federal Student Aid warns that individuals should be on the lookout for con artists and gives an example of their methods of acquiring money.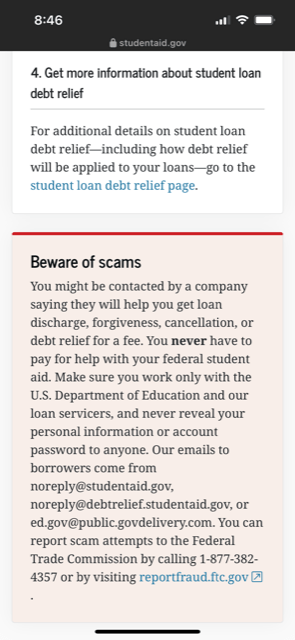 Additionally, here is an outline of other student loan relief scams that Americans are being deceived by.
Currently, scammers are contacting individuals on social media, phone calls, emails, etc. stating that they can help individuals receive the priority in gaining their student loan forgiveness more efficiently. In fact, many scammers are stating that they are able to move people to the head of the line for student loan forgiveness. The Federal Trade Commission states, "Nobody can get you in early, help you jump the line, or guarantee eligibility. And anybody who says they can — or tries to charge you — is (1) a liar, and (2) a scammer" (FTC).
Other con artists claim that they can help people earn more than the $20,000 that the government stated that they will pay off. Additionally, many scam artists are advising students to fill out a bogus application that guarantees them eligibility, regardless of the regulations, if they do so.
What to look out for before giving out your personal information.
At some point of time, the government will need your social security number in order to give an individual this loan aid. When you're filling out the form, look for ".gov" domain extension inside the link as shown in the example below.
The service will NEVER ask for your Federal Student Aid ID and password.
Only fill out personal information for the U.S Department of Education and the FSA loan services.
Many scammers will use an urgent tone or state that you only have a limited of time to sign up for debt relief. Do not be rushed and make the wrong decision in giving out your information.
FTC states to examine your federal loan servicer: make sure you know who they are and that they have your most up-to-date contact information. This will provide you with the most up-to-date information about the cancellation and pause.
If you qualify for student loan forgiveness, here is the governmental application that you can fill out.
Additionally, if you come across a scam, report it to the FTC here.