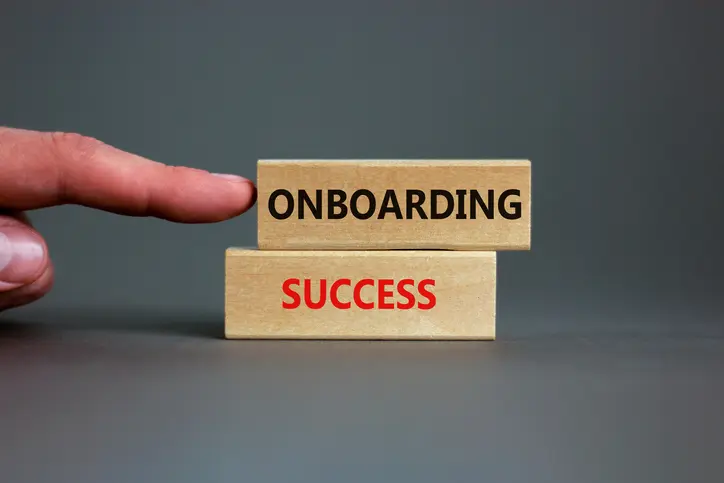 Hiring a new employee can be a time-consuming process. Not only must you focus on interviews, employment eligibility documents, setting up workstations, and so on, but the onboarding process in ensuring all equipment is available/ordered; as well as making sure that the new user has data access to your business requires, time and effort. You may require an MSP to take on this job. As a result, Infiniwiz is here to assist you. We believe in transparency and making sure that all our client's questions are answered in terms of the onboarding process so that you are aware of what is done when your new employee hops on board.
The first step of the onboarding process is to fill out the onboarding form.
Clients have communicated with us in a variety of methods, including calling and emailing when it comes to setting up tools and software for a new hire. While this technique informs us that you require a new employee, we will still direct you to fill out our onboarding application form instead. We do this for a variety of reasons. When taking information over the phone or communicating through email, it can be problematic. This is because a client may miss telling us critical information that we require, resulting in extra time spent communicating with the client to obtain the information and ask the questions we still require.  Additionally, because the client isn't always available to answer our questions immediately, and sometimes the onboarding requests come in only a few days before start date, the new employee setup may not be complete by its start date. Therefore, a form is vital since it eliminates the issue of missing information that a client or we as a company may have overlooked when communicating by phone or email.
The onboarding form asks a list of questions that we need to know for your specific business.
These include but are not limited to:
The new hire's contact information
If the new hire needs a phone extension
If the new hire needs access to an office computer
The hire's start date
The new hire's role
Specific applications that need to be install
When you hire a new employee for your business, it is imperative to inform us as soon as possible so that we can begin working on onboarding your new hire. We strongly advise clients to notify us at least 1-2 business days before an individual begins work at your company. This is because it takes time to set up tools and applications for a new employee. In addition, we have a large number of support request to work on throughout the day. As a result, it is critical to notify us in advance so that we can schedule and prepare for onboarding so that your new employee has all necessary equipment configured and application access set up by their first day of work.
On our website, you are able to access our onboarding form via "Clients" menu.  Here is a link to the form where you can view all the inquiries made.
There are a variety of onboarding forms depending on the business.
The online form on our website is a standard form that may be used for the vast majority of client's businesses.  Some of our clients have custom onboarding forms because not all the particulars that pertain specifically to that organization are included in the default form.
What happens once I submit the onboarding form?
When you submit your onboarding form, it becomes a ticket in our PSA software and is routed to the service coordinator, who assigns it to an engineer to work on the onboarding. We begin working on a task once it is scheduled. If a customer has a virtual server or an on-premises server, we log in, create a new user in the directory (where new users are added), fill it out with the necessary information from the onboarding form, and then begin a sync to move the data to Office 365.
However, while the new user account does exist, it is merely an account. The new user still requires a license to use their email, Teams, Microsoft Word, SharePoint, and so forth. We must go to PAX8, our Microsoft licensing provider, to obtain a subscription for the new employee. We will initiate the request, which typically takes around five minutes, and the license will then be available in Office 365 and accessible to the user. The onboarding form that is received is used to decide which license is best for the business which is based on the questions we ask on the form. Once the license has been allocated to a user in Office 365, we will go over the remaining software and tools that the firm requested.
When this procedure is complete, we will contact the new hire and walk them through how to access and successfully use software and resources.
Technology assistance include but are not limited to:
How to access email and set it up on their mobile phone
How to download Google/Microsoft Authenticator
How to activate and secure their new account
How to log into accounts on the outside
How the email system works
How to download the DUO app
How to log into the virtual server
What if I need access to certain applications?  
Additionally, along with the onboarding, we will sometimes be required to set up access for specific applications a company uses. For example, if it is a medical office, they may use a practice management software where they do scheduling, billing, capturing x-rays, etc. so that users can log in. Also, we make sure that users are able to print, scan, sign into teams, etc.
Will Infiniwiz take care of the desk phone?
If a client uses a VoIP system , we may need to set up a phone for them, or they may be taking over somebody else's old extension where we would have to adjust the extension such as changing their name.
Once the onboarding process is completed, we will then adjust everything in our system:
These updates include but are not limited to:
Monthly fees we charged
Purchased Licenses for the company
Purchased equipment
Contact information
Furthermore, we make every effort to set up tools and software in such a way that everything the client and their team require is already set up and ready to use. With having a structured and effective onboarding process, we strive to make sure that your new hires are set up and ready to work without any adversities.
It is our job to help companies create more unified business functions, improve customer service, and utilize technology to move forward. Chicago experienced IT consulting experts will make your technology work for you and keep you from spending endless, frustrating hours managing your business IT. Managed IT is when the Infiniwiz team proactively takes care of all the IT headaches and hassles for you…So you can get done all the things on your own "to do" list – like growing the business!