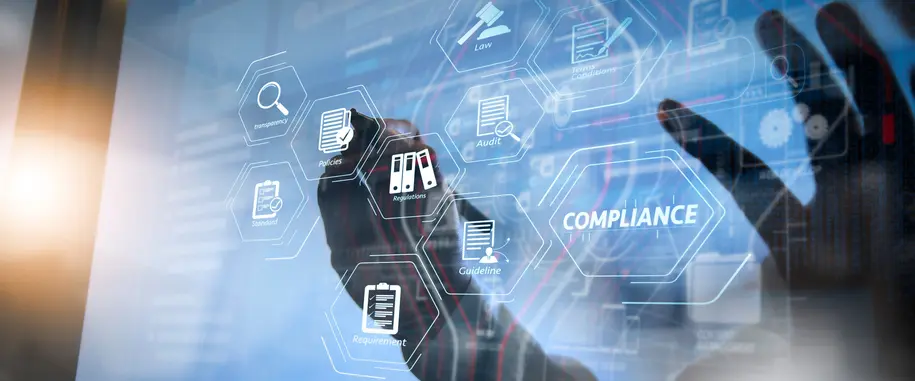 In the current digital era, companies must safeguard their clients' sensitive information, including personal and financial data. In this case, PCI (Payment Card Industry) is imperative. The PCI DSS is a collection of security requirements created to make sure that any business that accepts, processes, stores, or transmits credit card information does so in a safe manner.
Here are a few important facts:
 In 2020 7.9% of organizations achieved 100% compliance during their interim compliance validation (Verizon).
 According to a Security Metrics report, approximately 70% of organizations fail their initial PCI compliance evaluation.
According to estimates from the PCI sector, many organizations have difficulty achieving and maintaining PCI compliance.
Why is PCI Compliance important?
PCI compliance is crucial because it safeguards sensitive customer data, lowers the chance of data breaches, and contributes to the integrity of the payment system. Also, a potential data breach can have severe repercussions for a company, including loss of client trust, reputational harm, and legal liability. By establishing security rules that all firms must follow, PCI DSS aids in the prevention of such breaches.
How does this apply to business owners?
Any company that accepts credit cards and has access to customers' credit card numbers must comply with the Payment Card Industry (PCI) compliance law. In other words, all companies that engage in credit card activities and view clients' credit card information must be PCI compliant.
Therefore, businesses must be aware of the PCI compliance laws and take the appropriate actions to become and stay compliant. Ensure your security measures are current and practical, involving routine inspections and audits.
Businesses must comply with twelve PCI requirements.
These specifications cover access control, security monitoring, secure data storage, and data protection during transmission.
1. Build and Maintain a Secure Network
2. Protect Cardholder Data
3. Maintain a Vulnerability Management Program
4. Implement Strong Access Control Measures
5. Regularly Monitor and Test Networks
6. Maintain an Information Security Policy
7. Restrict Access to Cardholder Data
8. Identify and Authenticate Access to System Components
9. Restrict Physical Access to Cardholder Data
10. Track and Monitor All Access to Network Resources and Cardholder Data
11. Regularly Test Security Systems and Processes
12. Maintain a Policy that Addresses Information Security for all Personnel.
The PCI requires companies to answer questions to ensure they follow security standards and protect sensitive information.
Some common questions include but are not limited to the following:
● Have you installed and maintained a firewall configuration to protect cardholder data?
● Do you protect stored cardholder data through encryption?
● Do you regularly monitor and test security systems and processes?
● Do you restrict physical access to cardholder data?
● Do you regularly track and monitor all network resources and cardholder data access?
● Do you regularly test security systems and processes?
● Have you implemented an information security policy for employees?
● Where do you record credit card information?
If a company is not PCI compliant, it may face severe consequences, such as financial penalties ranging from thousands to hundreds of thousands of dollars, loss of credibility with customers, increased legal liabilities, and even the loss of its ability to accept credit cards.
Who enforces PCI compliances?
Your merchant bank typically enforces PCI compliance. Leading card companies such as Visa, MasterCard, American Express, Discover Financial Services, and JCB International established the PCI Standards Security Council in 2006 to regulate, preserve, advance, and promote PCI DSS compliance.
Additionally, if your card company knows that your business stores credit card data somewhere on your network, whether it is on a computer, server, Excel, notepad, etc., they will even require you to do a penetration test.
Is there an easy way out?
We previously accepted credit card information directly but have adopted a more secure approach. We now direct clients to a third-party, PCI-compliant portal for processing payments. Invoices are stored on this portal, where clients can log in, add their credit card information, and we will process the payments. All credit card information is encrypted, so we cannot see credit card numbers even if we want, thus, ensuring PCI compliance. This eliminates the need for handling, seeing, or storing credit card information and means we are compliant without significant stress or needing a yearly compliance test. In other words, we delegate the PCI compliance to the third-party company.
If handling credit card information is unavoidable, it is important to ensure security and comply with PCI regulations. To avoid penalties, make sure to follow all security rules strictly.
Our job is to help companies create more unified business functions, improve customer service, and utilize technology to move forward. Chicago-experienced IT consulting experts will make your technology work for you and keep you from spending endless, frustrating hours managing your business IT. Managed IT is when the Infiniwiz team proactively takes care of all the IT headaches and hassles for you…So you can get done on your "to-do" list – like growing the business! If you have any questions, feel free to contact us!