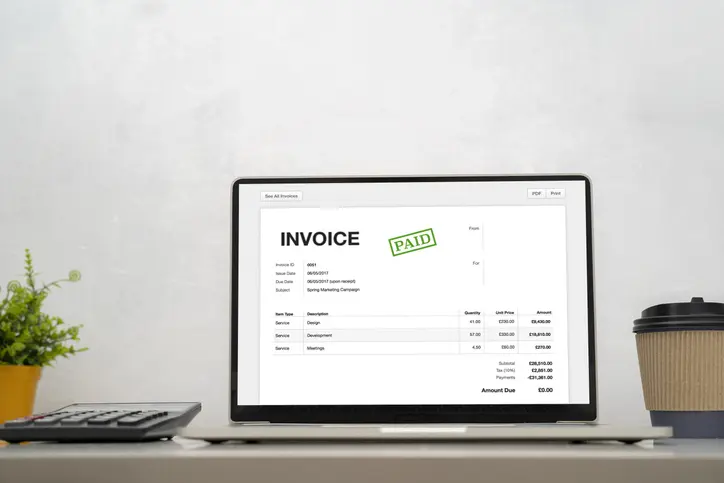 One of the main beliefs at Infiniwiz is that we are always transparent with our clients. We want to make sure that you are aware of our work processes in securing your business' technology and, most importantly, your private information. When it comes to your finances and the money you put into the maintenance of your technology, it is important that you are aware of where your money is going. Therefore, Infiniwiz wants to make sure that our clients are well informed on our billing process so that you are confident in any invoices you receive.
Today, I was able to speak to Alek Pirkhalo, Co-founder, and Kaden Evenson, our Service Coordinator, who will speak about our billing process.
What is the Service Coordinator's role in billing?
All billing is contained in our ticketing system. When we are working on support tickets, and we see that there is software that needs to be billed or something that needs to be added or removed, we go to the ticketing system and make the changes needed within the agreement. Agreements are a functionality of our ticketing system. The ticket is tied directly to the agreement of the company, which contains all services that a client is utilizing and is billed for.
Anytime, for example, a new phone number is being added for a business, or a new employee needs to be set up with essential business tools, it is the Service Coordinator's job to inspect the ticket and determine what all we had provisioned for that specific business. He then goes to the agreement and adds what is relevant to the company's bill.
For example, if a client has a new user start at their company, the service coordinator will look at the onboarding form filled out by the client. They will then cross-reference it with the agreement for that company to see what tools the user will need under that specific business.
These include but are not limited to:
● Type of Microsoft licensing
● What type of permissions should be applied
● In terms of VOIP, if the business added a new line or extension
● If they have a virtual server
● If a client needs a new computer, monitor, desk phone, headphones, etc. ordered, configured, and delivered
● Business-related applications, such as a line-of-business application or Adobe Acrobat.
Our billing is divided into two types.
1. Weekly Billing of Projects and Materials
Invoices are generated every week, usually on a Thursday with Friday's invoice date. These are our 'one-time' type of invoices. By materials, we mean equipment products, software products, annual licensing, one-time licensing, or equipment warranties. All work and materials are documented in support tickets. As we work on these tickets, we add billing records to them. The billing records are reviewed by the Service Manager and Service Coordinator every week, usually on Wednesday. Then, on Thursday, all billing records are converted to invoices and sent to clients.
2. Monthly billing
Invoices are generated once a month from agreements. For example, when a user is being onboarded, it may be required that the new employee may require phone services or even a Horizon Server login. There may even be a support fee that needs to be charged; these licenses need to be billed and will get added to the agreement.
Additionally, invoices are sent out on the 20th or 21st of every month, depending on the length of the month. In other words, 10 days before the 1st. We will generate those invoices, and the billing cycle will be billed for the next month.
For example, let's say we added an employee to the billing on the 15th of September, the user would be added to the invoice on September 20th and cover October. However, if the user was added on the 25th of September, the client would not be added to the October invoice because it was already issued. Therefore, you can say that the client gets a free pass in paying for the October month.
Another example is, if a user gets off-boarded, and the invoice has already been issued, we will not modify the invoice created for October. However, because most of our clients have more onboardings than off-boardings, this works in advantage for our clientele as they save more than they lose.
So, what do we look for when we review your billing's accuracy?
Infiniwiz understands that your finances are important and wants to make sure your bill is accurate when they are sent out. Therefore, every month, Infiniwiz goes through every agreement that we have tickets for to make sure that there are not any mistakes that we may have looked over.
We double-check the following:
● Accurate quantities and names
● Changes that are made over the month in terms of services
● Time accounted for in technical assistance
● Review company's records for accuracy
However, we still encourage our clients to double-check to make sure their billing is correct.
Despite our efforts to make sure everything is accurate, human error can still occur. It is the worst thing when a service is being billed for ongoing months when it shouldn't be.
Also, there is a misconception from clients that we are aware of when an employee is no longer with a company. Or a client may have forgotten to tell us. However, we do not automatically see if somebody has left a client's company
When you are notified that your employee is leaving your company, please let us know as soon as you can. Infiniwiz has an offboarding form that needs to be filled out which will notify us when someone has left your company. This form will automatically go to our department, and we will take care of the offboarding process from there. We urge our clients to add "Notify Infiniwiz" to their offboarding checklists.
Click here to view our off-boarding form. Also our onboarding form is located here.
What payments do we accept?
We accept five types of payments. These are:
• Bank account using our online payment portal https://portal.infiniwiz.com (used by most clients)
• Intuit online payments (click "View and Pay" in invoice email)
• You can send ACH payments using your online bank. Let us know if this is preferred and we'll give you our bank credentials.
• Credit card via https://portal.infiniwiz.com (system will assess a 3% surcharge, all other methods referenced above are free)
• Zelle
Overall, we believe that connecting with our customers is only possible through transparency and answering your questions! If you have any questions about our billing process, feel free to contact us! Remember, we are always here to help!