Why Select Infiniwiz as Your Partnering IT Company in Chicago
Infiniwiz is a unique Chicago IT company composed of friendly, highly skilled individuals who have expertise in a wide array of technology disciplines.
Many of our competitors have great technical skills, but, Infiniwiz also is business professionals and how technology helps businesses achieve all goals and objectives.
Infiniwiz professionals provide comprehensive tech support and effective IT consulting including a full suite of managed IT services. We want to help you to benefit from the guidance and solutions of the best Chicago IT company putting our business experience to proper use. We ensure you're making the most effective investments for your long-term growth and success, employing a strategy that leverages the right tools to improve your operations.
Our dedicated IT support experts contribute to your business the most essential things:
Optimization
Compliance
Stability
After all, you don't want the latest flashy technology so you can show it off. You just want your IT systems to work reliably and efficiently while meeting security standards and enabling you to pursue organizational objectives.
That's what we do – and we're the best at what we do.
Infiniwiz = Leading Chicago IT Company
Reduce wait times with paperless systems
Utilize mobile IT to empower employees
Rely on high-level IT security
Get more done in a day
Leverage efficiency for better workflow
Give your Chicago business a boost by partnering with Infiniwiz!
Your business has infinite potential – we will help you get there.
Your unique business challenges have technology answers – we will implement them.
Your technology can make your workday easier – we will show you how.
Your budget CAN afford Fortune 500 level IT solutions – we make it possible.
Don't Be Confused With All The Chicago IT Companies
Because we have the knowledge to help you, the reliability to support you, and the heart to run with you to the finish line!
Give us a call now at (847) 713-1291 or send an email to sales@infiniwiz.com, and we'll get started!
How Much Will You Pay For Managed IT Services In Chicago?
Managed IT Services offer you some great options for your information technology infrastructure. You can get all your IT managed or simply get help when your in-house techs are swamped. Managed Services provide you with an experienced team of pros who can handle everything from your network security to your important business applications.
The first question that many business owners and managers have relates to the cost of Managed IT Services. We're asked this all the time, and we always answer it as accurately as possible.
In order to do so, we'll first need to know a few things about your business. Today's organizations can be very complex. One company may only need help with IT consulting, while another might want us to handle every aspect of their IT maintenance. There are many factors to consider, and we'll always strive to work within your budgetary requirements. First, let's talk about what services you can choose from.
What Do Managed IT Services Include?
Although your business could benefit from all types of IT services, some companies have certain aspects of this already covered. There's no reason to pay for services that you don't need. Below, are a few of our most popular services.
Infrastructure Management, Monitoring & Maintenance:
This includes server monitoring and workstation protection. We'll manage your security and firewall, along with backup and disaster recovery services. Business continuity is an essential component these days with so many natural disasters taking place. Any interruption to your services can be expensive. In addition, it can damage your company's reputation and affect your bottom line.
Cloud Services:
Most companies could benefit by moving to the Cloud. You need onsite and offsite file backups in order to protect your important data. One malware or ransomware infection could cost you thousands of dollars and become a major interruption in the way you do business. Hosted email or fully-hosted solutions are other options you should consider.
User Support:
Your employees will eventually need help with a line-of-business application or a malfunctioning computer. Depending on how many employees and computers you have, it can be more cost-effective to go with an unlimited user support package.
Our engineers can often solve your issues remotely. This is a quick, convenient option for your employees. We remote into the computer and fix the problem so they can go right back to work. In some cases, it's necessary to send an engineer out to your company to fix the problem. With unlimited user support, everything is included so there are no surprise IT bills to pay.
Strategic Consulting:
We can provide a virtual CIO if you need it, or simply step in when your team needs a bit of assistance with a big project. Strategic consulting can prevent you from making big investments in technology that might be outdated within a few years. The goal here is to give your business the benefit of our years of experience dealing with different machines, brand names, products and services.
How Much Should You Pay for Managed IT Services?
That depends on the level of IT services your business will require. How many employees do you have? Do you have an in-house IT staff that needs a helping hand, or do you need a full-scale managed services?
We don't require you to engage our full spectrum of services. Instead, we have tailor-made packages that will give your company exactly what you need and nothing more. If your needs change, just let us know. We are all about flexibility, and we understand that businesses must be flexible to survive these days.
Infiniwiz Offers 4 Distinct IT Service Plans
1. Extra Hands: This is a plan for companies with IT staff onsite that needs some extra help. It includes help-desk services, on-site services, device monitoring and management, application support and on-premise server management. There's no built-in security with this plan, so it's only for businesses with on-site IT staff.
2. Basic IT Package: This is for small companies that don't employ onsite IT staff. You'll have everything listed above along with Security IT Management with a Managed Backup.
3. Full Security Package: This is more suitable for healthcare or financial services companies like accounting firms. It offers even more security with Password Management, Data Encryption, Risk Assessments, and Traffic Scanning in and out of the office to detect and block malicious threats.
4. Managed 365 Package: This is a full-scale Managed IT Plan that includes training and consulting. This is more suitable for companies that must stay up and running 24/7 no matter what. You'll have a CIO who will work with your leadership to discuss your goals, needs and budget to align technology with them. We perform monthly or quarterly alignments to make adjustments as needed. Training is provided for staff to teach them to recognize and avoid security threats like SPAM and phishing emails.
Here is a chart that depicts the different levels of service we provide: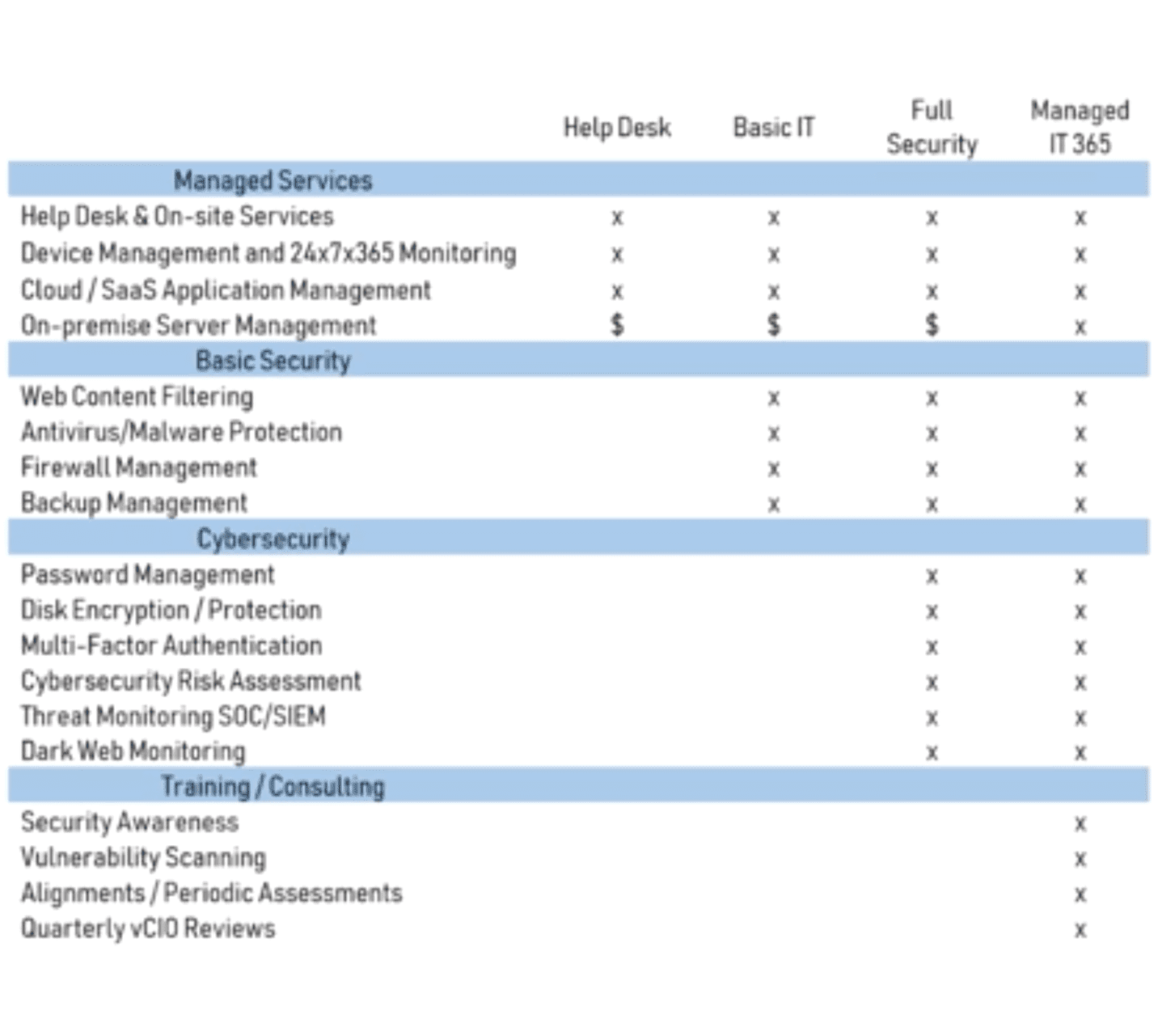 Pricing
Pricing ranges from $50 to $150 per user, per month depending on the Plan that you choose. It's a flat fee that's easy to budget for and includes a full-blown IT team of certified professionals.
As you can see, there are lots of variables when it comes to quoting the price of Managed IT Services. That's why we recommend sitting down with one of the consultants at Infiniwiz to go over your specific business needs. Contact us to learn more.
Want to stay up to date on the latest IT news and info? Check out our Blog.