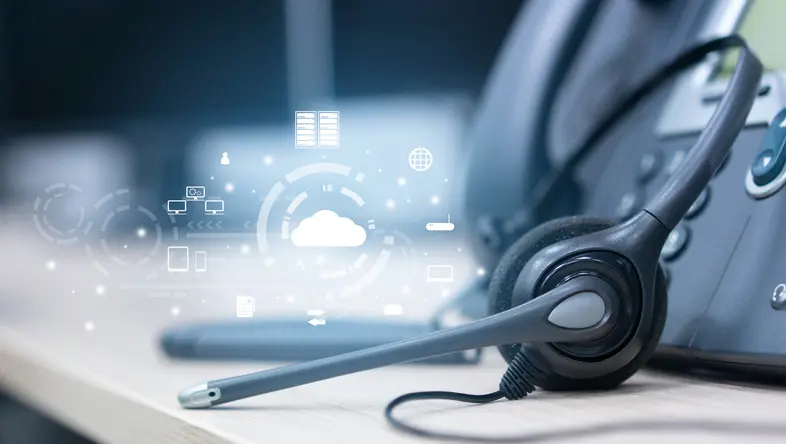 To communicate with your team, clients, prospects, etc., technology has become crucial, where phones are one of the essentials for any communication to others. Voice over Internet Protocol (VoIP) is ideal for a user to place calls as well as receive them from any device set up with internet connection, since more people are working remotely and traveling while working. VoIP phone system, according to Infiniwiz, is now a standard for any business due to its vast amount of features and ability to call from any device, be it a desk phone, cell phone or a computer. As a result, I would like to go into more detail about VoIP services.
Our VoIP Process
When a client requests VoIP services, we will first speak with the client so that we can ascertain all their phone service needs. The technician must familiarize themselves with the company's phone system before starting the setup since every business has a unique set of working procedures. Therefore, a company might, for example, already have assigned phone numbers for extensions. Additionally, some businesses may have three- or four-digit extensions. Aside from existing phones, we will also need to know if any employees will be using our mobile phone services to place and receive calls or if they will use the desktop calling software that we offer as well. Also, we will need to know which phone numbers and extensions they are bringing along as well as which phone features they won't be using any longer.
We will need to know how many phone numbers the current system has, if all of them will be brought over, and how the moved numbers will be routed. Routing means the path a call takes when a caller dials a phone number. Perhaps it will ring to one or more extensions, go to the auto-attendant or a live receptionist, or go to voicemail.
The next step is to determine whether the company already has phone numbers that need to be added to our system. If so, a port will be started to transfer the numbers to the system. After that, we will configure extensions and routing in accordance with the needs of the company.
Once we have determined the company's phone needs, we will then begin the next steps to start the set-up, we will provide a breakdown of the services that will be provided and any additional equipment that may be needed.
We recommend that you allow Infiniwiz to purchase any business phones in which we will supply brand name and specifications that we are confident will be compatible with not only your business, but also our phone system. Furthermore, it is also simpler for us to manage equipment purchasing, in which we will make sure that:
Equipment is ordered in time
The right model is purchased
We can cancel our existing order and reorder with a different vendor if we get notified of significant delays.
If a phone ends up being faulty, we will deal with return and replacement per equipment warranty
Once the call routes and the phones are set up, you and your team will be able to use many of the VoIP features that will be beneficial for your company's processes. These include but are not limited to:
Local and Long-Distance Calling
Paging and Intercom
Call Transfer to Voicemail
Company Directory
Music on Hold
Outlook Integration and Softphone
To view other features that come standard with every Infiniwiz VoIP phone service. Click on here to get more details.
Additionally, if you would like to learn more about our phone process, feel free to contact us anytime!
It is our job to help companies create more unified business functions, improve customer service, and utilize technology to move forward. Chicago experienced IT consulting experts will make your technology work for you and keep you from spending endless, frustrating hours managing your business IT. Managed IT is when the Infiniwiz team proactively takes care of all the IT headaches and hassles for you…So you can get done all the things on your own "to do" list – like growing the business!